This seminar is geared towards teams that are getting ready to compete or have recently started to compete. Dogs must be 14 months and older, and able to sequence jumps and tunnels. No contacts or weaves will be used in this seminar. This seminar will help your young dog learn how to accelerate on extension lines and turn tight on collection turns. Let Tracy help you and your young dog achieve great skills in both areas.
Prerequisite:
Please do not register a dog that has focus issues or that can not deal well in a seminar environment. The aim is to work handling and not focus issues.
Dogs must be 14 months or older.
Please Note:
If the event is full, please select the Register button and fill out the form to be put on the WAIT LIST. We almost always pull from the wait list as we get closer to the event.

LUNCH WILL NOT BE PROVIDED.

 Please plan accordingly by bringing your own lunch. There are also many restaurants close to the center.
Auditors are welcome! Auditing fee is $50/day ($25 half day). Auditors, pay day of event.
Refunds will be given for anyone that is sick without concern about filling the spot. If you have to cancel and you are not sick, you will be refunded if the spot can be filled. 
With the COVID numbers rising and with the CDC's recommendations that everyone (including vaccinated individuals) should consider wearing masks indoors we want to let you know that you will be required to wear a mask while you are indoors at OTR during the seminar. The policy at OTR might be different than the seminar. We want to keep Tracy safe as well as others. 
About Tracy: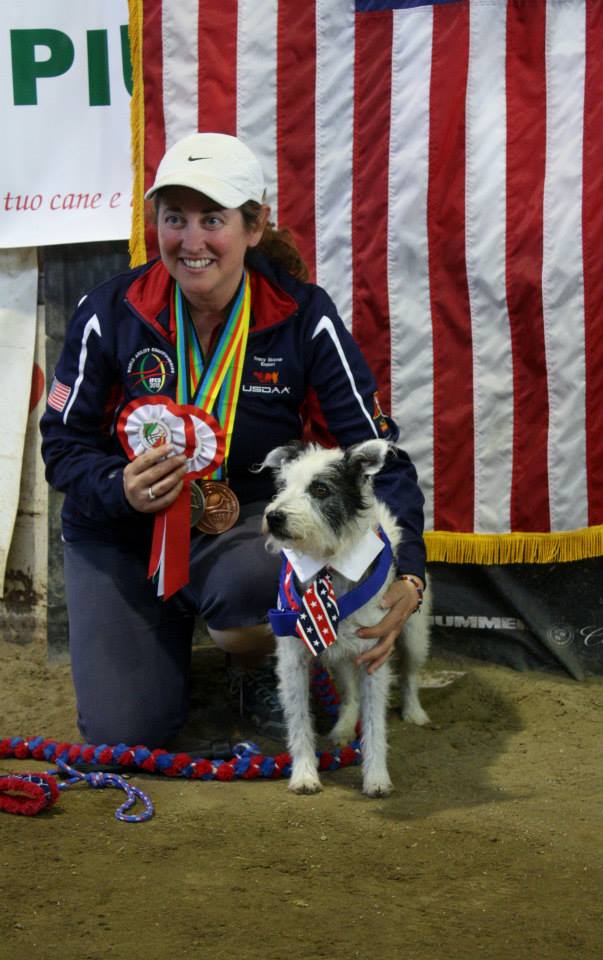 Tracy Sklenar has been training dogs and competing in dog agility for over 20 years and is perhaps the only handler in the world who has won medals in international Finals as a coach for 2 different countries AND as a handler with her own dog in both team and individual events.
She is on the faculty of Agility University (www.agility-u.com) and MasterClass (www.agilitymasterclass.com) and travels extensively to teach seminars and compete. Her "Feet Forward" approach to handling and emphasis on connection and reinforcement have helped handlers excel at every level and with every type of dog!
2017 has gotten off to a great start with success in the ring both here and abroad. After coaching the USA team at the IFCS World Agility Championships in Spain, Tracy has turned her focus to her own dogs. Export continues to do well, earning 1st place in the Performance Grand Prix and 2nd place in Performance Speed Jumping at the USDAA Regional in Georgia! Youngsters Voodoo and Nacho are beginning to make their mark in competition, with Voodoo gearing up for his first Cynosport World Games in October.
2016 was an incredibly successful year: Export enjoyed multiple wins and placements, including 3 Gold medals and 1 bronze medal at USDAA Regionals and capping the year off with multiple class wins at the World Cynosport Games and Silver medal in the Steeplechase Finals! 3 year old Voodoo qualified for the 2017 World Cynosport Games, and baby dog Nacho began his career with titles in Jumpers!
2015 was an exciting year, with Tracy and Export winning a Silver medal (Team) and Bronze medal (Individual Agility) for the USA at the IFCS World Agility Championships as well as winning multiple regionals and enjoying a very successful Nationals. 2014 was also a busy year, featuring wins in 5 different Regional Finals (in 2 different heights), a 4th place finish in the Steeplechase Finals at USDAA's Cynosport World Games as well as running in both the Team Finals and the Master Challenge Finals, selection to a spot on Team USA at European Open, winning a spot on Team USA for IFCS and earning a Finalist spot at the AKC National Championships. Export has been on a total of 4 European Open teams, including running in the Finals in 2012 in Sweden! Before retirement, Rebound competed successfully at the National level in the USA and Canada, earning podium appearances at nationals in Performance Grand Prix, AAC Steeplechase and Veterans Grand Prix.